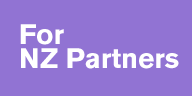 About Us
The Company
Land of CLOUDS Co., Ltd. was established with our huge passion for New Zealand.
We have visited New Zealand for uncountable times just because we love being there.
We have experienced number of great adventures in various fantastic fields - Tramping, Seakayaking, MTB, Horse Back Riding and so on.
And they all were just awesome.
Every year, as many as 160,000 or even greater number of Japanese visit New Zealand.
They consist the fourth largest international traveler in the country following those from Australia, UK and US.
However, it is also true that only 1% or fewer Japanese outbound tourists now choose New Zealand as their travel destination.
And, among them, more than 70% visit the country in a packaged group tour - i.e. missing the real charm of the country.
Having said that, the interest and the style of Japanese travelers have been changing dramatically in the last few years.
Once they come to know New Zealand is the place to go and have fun, we can expect more to come down to New Zealand to DO things rather than SEE things or just to BE there.
Early this year, we decided to set up our company to respond to the changes expected in the near future.
We are convinced that there is a huge potential in the coming years.
Land of CLOUDS is set up to focus solely on promoting Real New Zealand to the Japanese.
Mainly by introducing exciting OUTDOOR activities throughout the country - from relaxed activities to extremely challenging ones.
We have no doubt New Zealand offers the most entertaining and exciting outdoor playground in the world.
The Approach
As a new comer to the industry, Land of CLOUDS would like to take a slightly different approach in the tourism business to the Japanese.
Firstly, the company is designed to team up with local New Zealand outdoor activity operators in promoting NZ local products in Japan.
As a general rule, we believe that local people know best about local things.
Kiwi knows New Zealand.
Secondly, instead of going through various counterparties, which we think can be unnecessarily costly and not the most effective, Land of CLOUDS will, on your behalf, conduct direct marketing to Japanese consumers through various and effective channels.
We know communication is the key to both ends, New Zealand and Japan.
And we know we are very good at it.
Thirdly, we intend to promote only selected items, which we believe are the best in each region.
Instead of listing too many activities, Land of CLOUDS would like to promote only several but the finest ones that we have strong confidence in and feel comfortable about.
In other words, we would like to have deep, solid and thoughtful relationships with each of the business partners who wish to establish their presence in Japan.
Fourthly, we will assist both ends - Japanese visitors and New Zealand service suppliers - to overcome their Language barrier.
It has obviously been the biggest problem for the Japanese in exploring outside the Japan.
We not only offer support services to Japanese visitors but also help the suppliers in developing their welcoming system and improved hospitality for Japanese travelers.
Lastly, we are very very keen to try out new adventures in New Zealand.
That ways, we can introduce the new attractions to Japanese tourists.
We strongly believe that we shouldn't recommend anything unless you yourself have experienced it and got to like it!
If you are interested in having business partenership with us, please contact us by sending an e-mail to the address below.
There is a great potential for business with Japanese tourists to grow, but, probably, in a different approach from how it has been.
Let's work on it together.
The Founder
Born and bred in Japan.
I have worked for two Wall Street firms for a total of 15years until recently - too long.
So the tourism business is a new challenge for me but it has been the one, in which I have wanted to be involved for long.
I am a keen seakayaker with a few expedition experiences, which finally leads me to the outdoor heaven - New Zealand.
I realize my mission is to have more and more Japanese tourists to come and enjoy what they can challenge and experience in New Zealand.
My Kiwi friends are all great.
Really excited to work together with those extremers.
So let's do it together.
Iwao FUJII
Managing Director
Our Office
Land of CLOUDS NZ Ltd.
131 Seaton Valley Road, Upper Moutere, Nelson,
New Zealand 7173
TEL:64-3-540-2408
E-mail:info@realnewzealand.net
Contents